FIND YOUR LOCAL TRANSPORT PROVIDER
Find your local transport provider
For information on local transport, select your area to be taken to your local transport website
i
Tyne and Wear Passenger Transport Executive NEXUS
i
Cumbria County Council
i
Connect Tees Valley
i
North Yorkshire Passenger Transport Executive
i
West Yorkshire Passenger Transport Executive
i
Lancashire County Council
i
Transport for Greater Manchester
i
South Yorkshire Passenger Transport Executive
i
Hull City Council
i
Merseytravel
i
Warrington & Cheshire Travel
The need for change
The North is home to around 1.1 million businesses, more than 7.7 million jobs, and over 15 million people, with population growth of 6.7%. The North's economy is around £343 billion, 19% of UK total. If the North were a country, it would be the 27th largest in the world.
However, overall productivity in the North still trails behind the UK average. The North's economic value per person (measured as GVA) has been consistently around 15% below the average for the rest of the UK. More recent data reveals that gap has widened further, with the economic value (GVA) per person in the North now 18% below the UK average.
The benefits of a transformed North
The Northern Powerhouse Independent Economic Review identified four areas where the North is highly skilled and globally competitive. These are called 'prime capabilities: Advanced Manufacturing, Digital, Energy, and Health Innovation.
Promoting, growing and connecting the North's prime capabilities could result in higher productivity. The prime capabilities are supported by three 'enabling capabilities'. These are services or skills that provide the expertise and support for the North's economy to flourish, and for its people to enjoy a better quality of life.  These are: Education, Financial and Professional Services, and Logistics.
Download NPIER core messages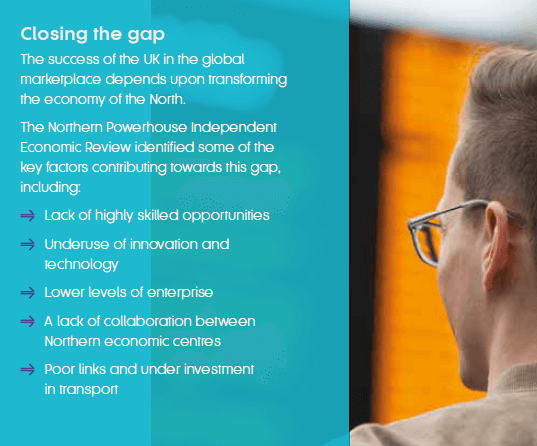 Our role
Having a reliable, resilient transport network for journeys to, from and within the North is an integral part of our vision. Our role in supporting economic growth is:
Connecting people:
Creating faster, more reliable transport connections to improve job opportunities, give access to leisure activities & support tourism.
Connecting businesses:
Supporting commerce by improving national and international connections in, out of and across the region.
Moving goods:
Improving links across the North and to our ports and airports to enable freight and goods to move more efficiently.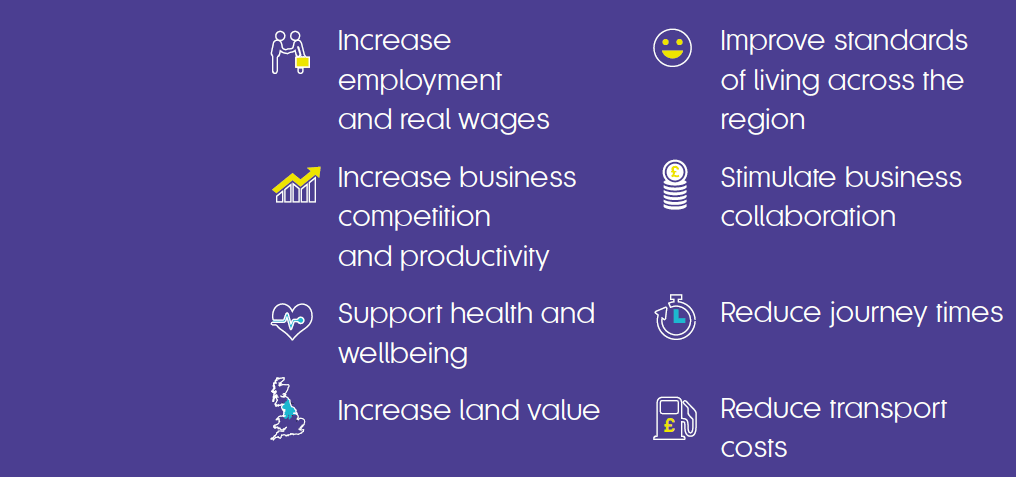 Supporting sustainable economic growth
If the economy of the North is transformed, by 2050 we could see around:
£100bn increase in GVA and 850,000 additional jobs.
To make this happen, we need significant, long term investment in the North's transport network.
At a glance | Strategic Transport Plan