Friday 29th September 2017
Transport for the North (TfN) is delighted to announce the appointment of Barry White as its new Chief Executive.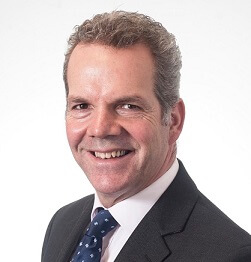 Barry comes to TfN with a wealth of experience in delivering major investment programmes. He joins from his role as Chief Executive at Scottish Futures Trust where he led the leadership team in delivering its remit of improving the efficiency and effectiveness of infrastructure investment and asset management in Scotland.
He has also held a number of challenging high profile private sector roles including Managing Director of BAMPPPUK and Director of Skanska Infrastructure Development.
His appointment comes after an extensive national search to find a successor for David Brown who has left TfN to take up the post of Managing Director of Arriva Rail North Ltd which operates the Northern rail franchise.
John Cridland, Chair of TfN, said: "Barry brings a balance of public and private sector infrastructure development experience that makes him the right person to take on TfN as we are on the verge of achieving statutory status and about to publish our ambitious strategic transport plan later in the year.
"The challenge is huge, but the Board believes Barry has the knowledge, experience and leadership qualities to lead TfN into its exciting next phase and deliver on the vision of a thriving North of England where modern transport connections drive economic growth and support an excellent quality of life."
On his new appointment, Barry said: "TfN is a unique organisation and I have seen how, under David Brown's leadership, it has been at the forefront of shaping the future of transport in the North of England. I am looking forward to leading the TfN team at a pivotal point in its journey as the organisation nears statutory status as the first Sub-National Transport Body in England."
Barry will join TfN at a date to be agreed shortly.
-ends-
Notes to editors:
To request a larger image please contact mediarelations@transportforthenorth.com
• Transport for the North is a partnership, bringing together local and combined authorities and business leaders from across the North with Central Government. This body allows the region to speak with one voice on the transport infrastructure investment needed to boost the North's economy.
• In 2016, the Northern Powerhouse Independent Economic Review, commissioned by Transport for the North on behalf of Northern partners, demonstrated how unique capabilities which are present across the North could be harnessed to transform the region, adding almost £97billion to the UK economy and creating up to 850,000 jobs by 2050.
• In February this year, the Independent International Connectivity Commission – formed by Transport for the North's Chair, John Cridland, to offer an expert business view of the global connectivity needs of the North of England – found that improving international links with the North could see 75 million air passengers travelling to and from the region each year by 2050, nearly double the current number. Also, by developing better road and rail links for the region's ports, more freight could be being shipped directly into and out of the region.
• TfN is establishing itself as a leading edge organisation in preparation to become the first Sub-national Transport Body in England.