FIND YOUR LOCAL TRANSPORT PROVIDER
Find your local transport provider
For information on local transport, select your area to be taken to your local transport website
i
Tyne and Wear Passenger Transport Executive NEXUS
i
Cumbria County Council
i
Connect Tees Valley
i
North Yorkshire Passenger Transport Executive
i
West Yorkshire Passenger Transport Executive
i
Lancashire County Council
i
Transport for Greater Manchester
i
South Yorkshire Passenger Transport Executive
i
Hull City Council
i
Merseytravel
i
Warrington & Cheshire Travel
We are developing a multi-modal, long-term Strategic Transport Plan for the North of England. We want to connect the key economic areas of the North to drive growth, improve access to jobs and ensure the North is a great place to invest and live. Our Plan will inform how the Government, Network Rail, Highways England and High Speed Two (HS2) Ltd work with us to deliver investment in transport infrastructure.
Strategic Development Corridors
Each corridor represents an area where evidence suggests investment in transport infrastructure will enable transformational economic growth. Our proposals for improvements in the Strategic Development Corridors will consider the needs of people and business and align with local transport investment.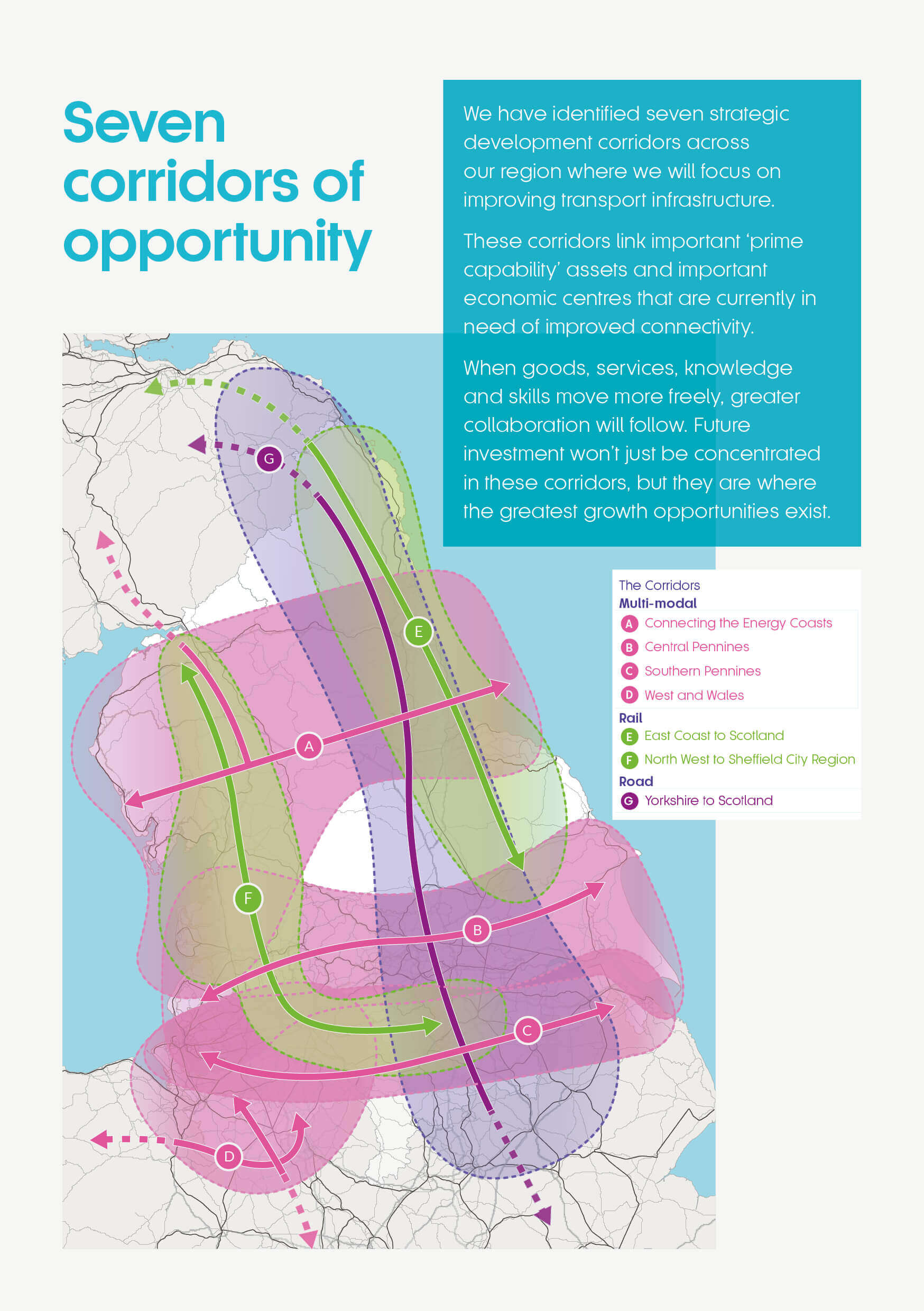 Connecting the Energy Coasts
To better connect people and goods between energy and research assets along the North West and North East coastlines and the national road and rail networks. To provide a more resilient East-West route across the North of England.
Connecting the Energy Coasts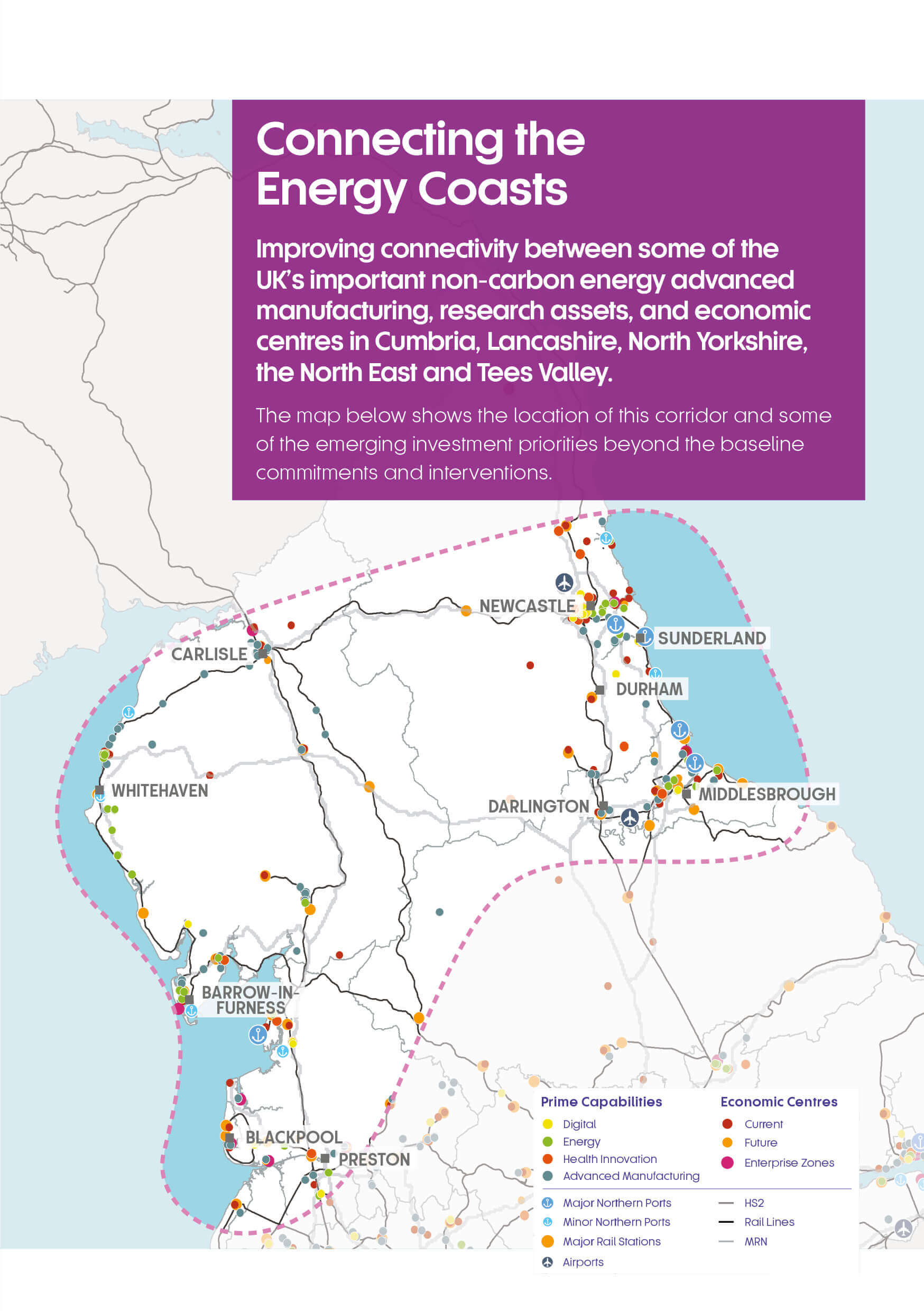 Central Pennines
To improve East-West links between important economic centres in North Yorkshire, West Yorkshire, Hull and Humber, Greater Manchester, Lancashire and Merseyside, increasing road and rail capacity.
Central Pennines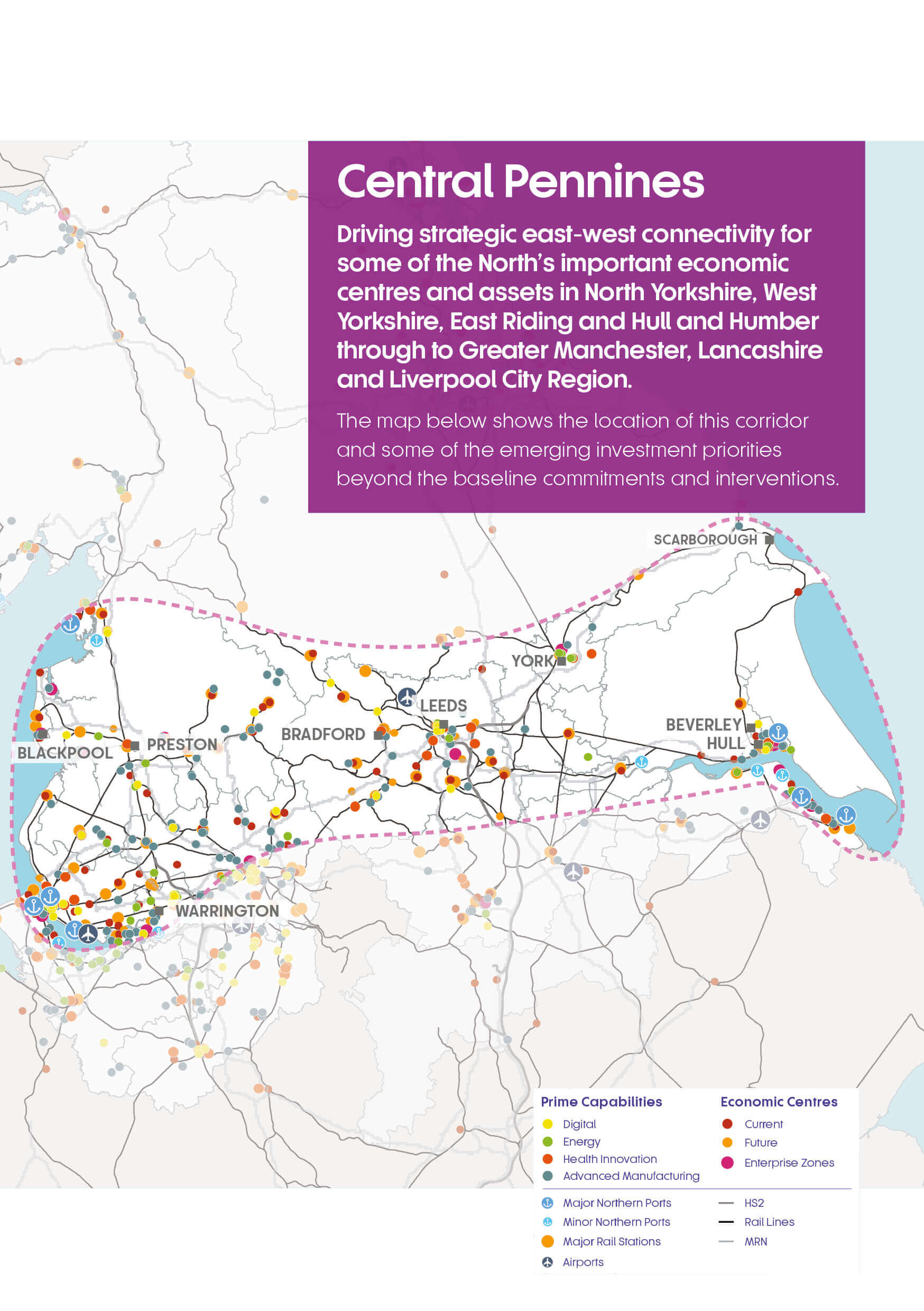 Southern Pennines
To improve East-West links between the economic centres of Liverpool, Manchester, Sheffield City Region, and Hull and Humber. This will include improving Transpennine road and rail links between Sheffield and Manchester and providing better access to Doncaster Sheffield Airport and the ports in Liverpool and the Humber.
Southern Pennines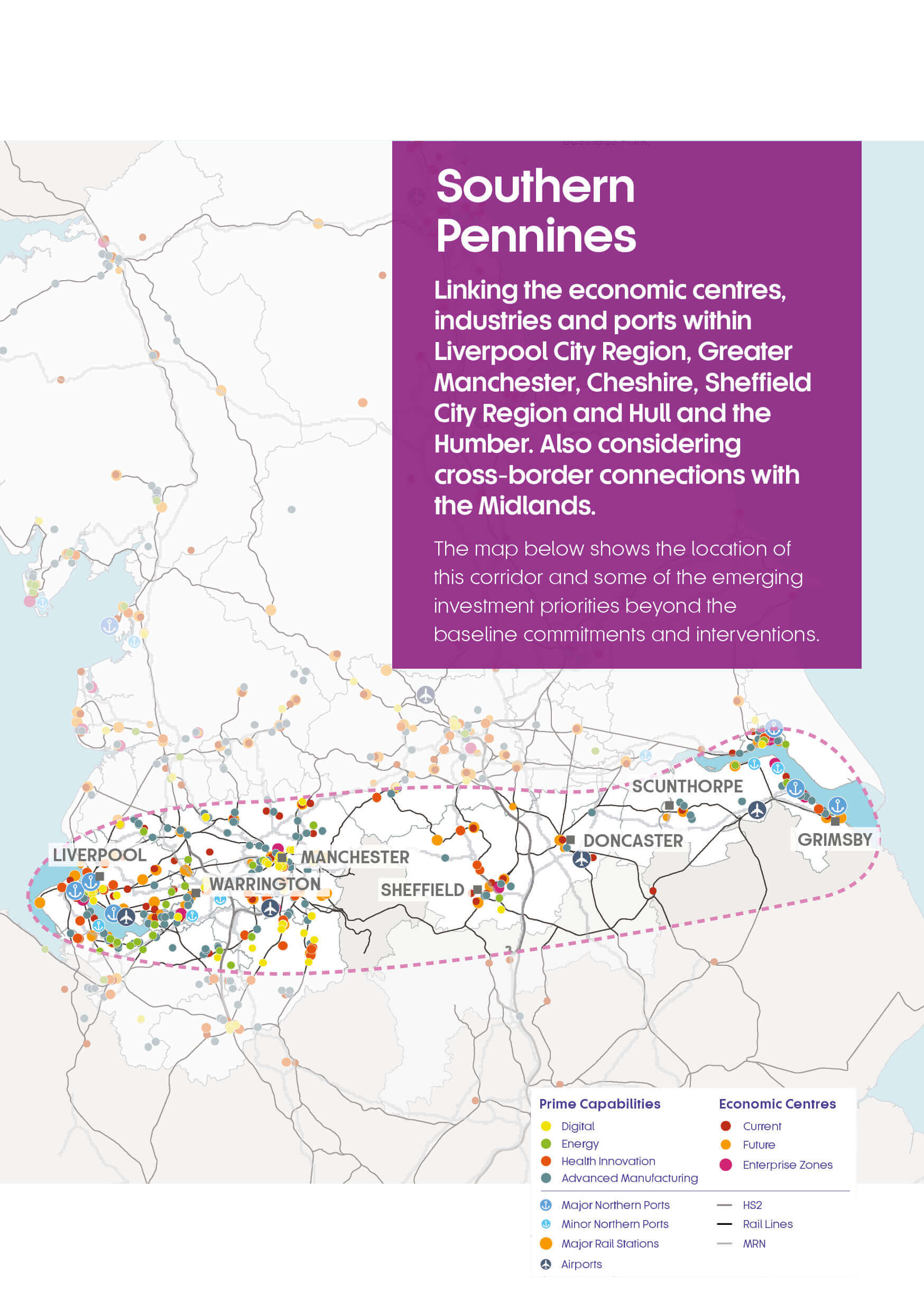 West and Wales
To improve links for people and freight to the Cheshire Science Corridor and Atlantic Gateway, Manchester Airport HS2 to North Wales Arc, and the Crewe Northern Gateway, considering cross-border movement into the Midlands and North Wales.
West and Wales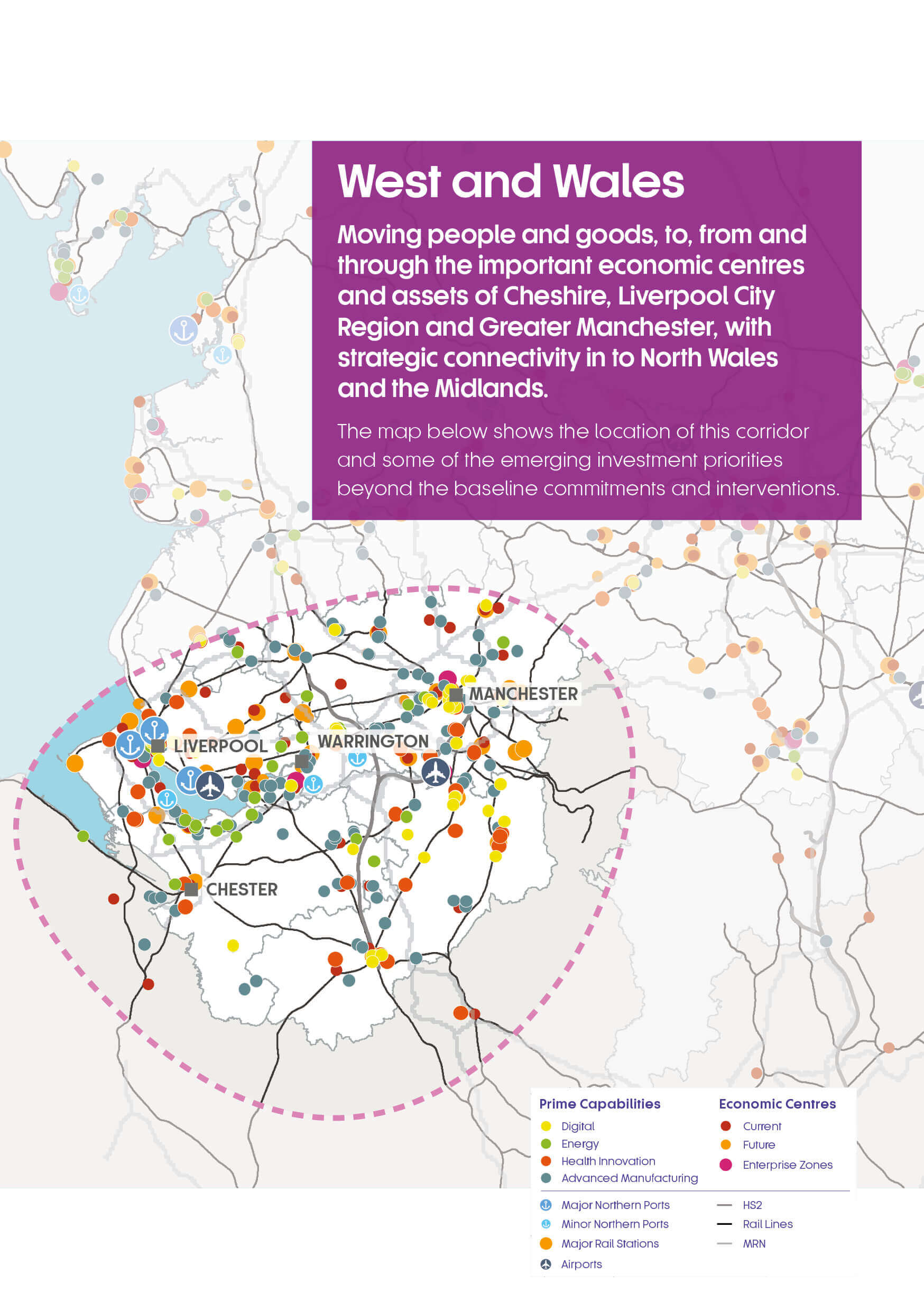 East Coast Corridor to Scotland
To provide better connections for north-south movement, connecting economic centres in the North East of England to each other and to the rest of the UK.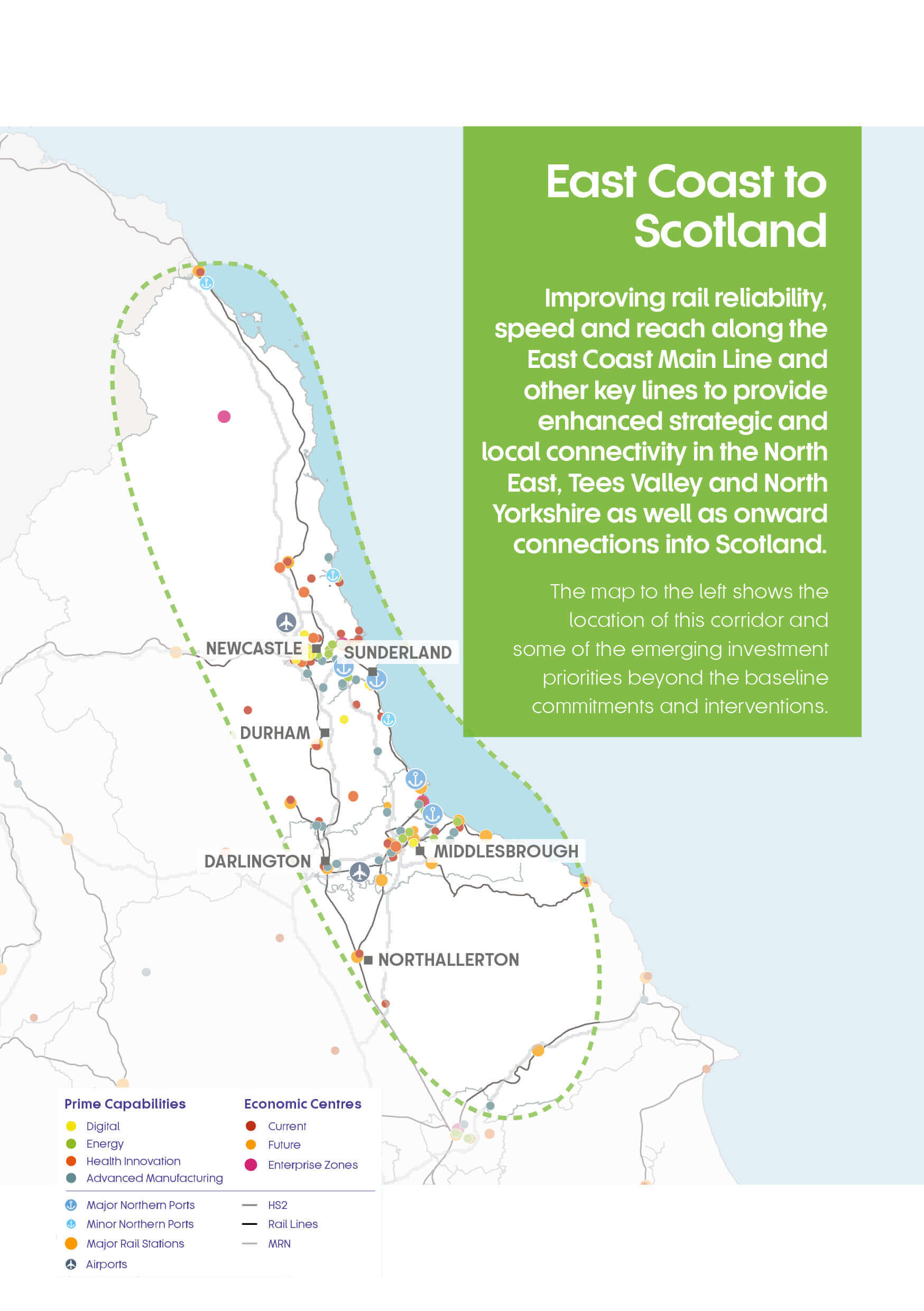 West Coast to Sheffield City Region
To provide links between advanced manufacturing businesses in Cumbria, Lancashire, Greater Manchester and Sheffield City Region, and complement road improvements to the North West of Manchester and across the Pennines.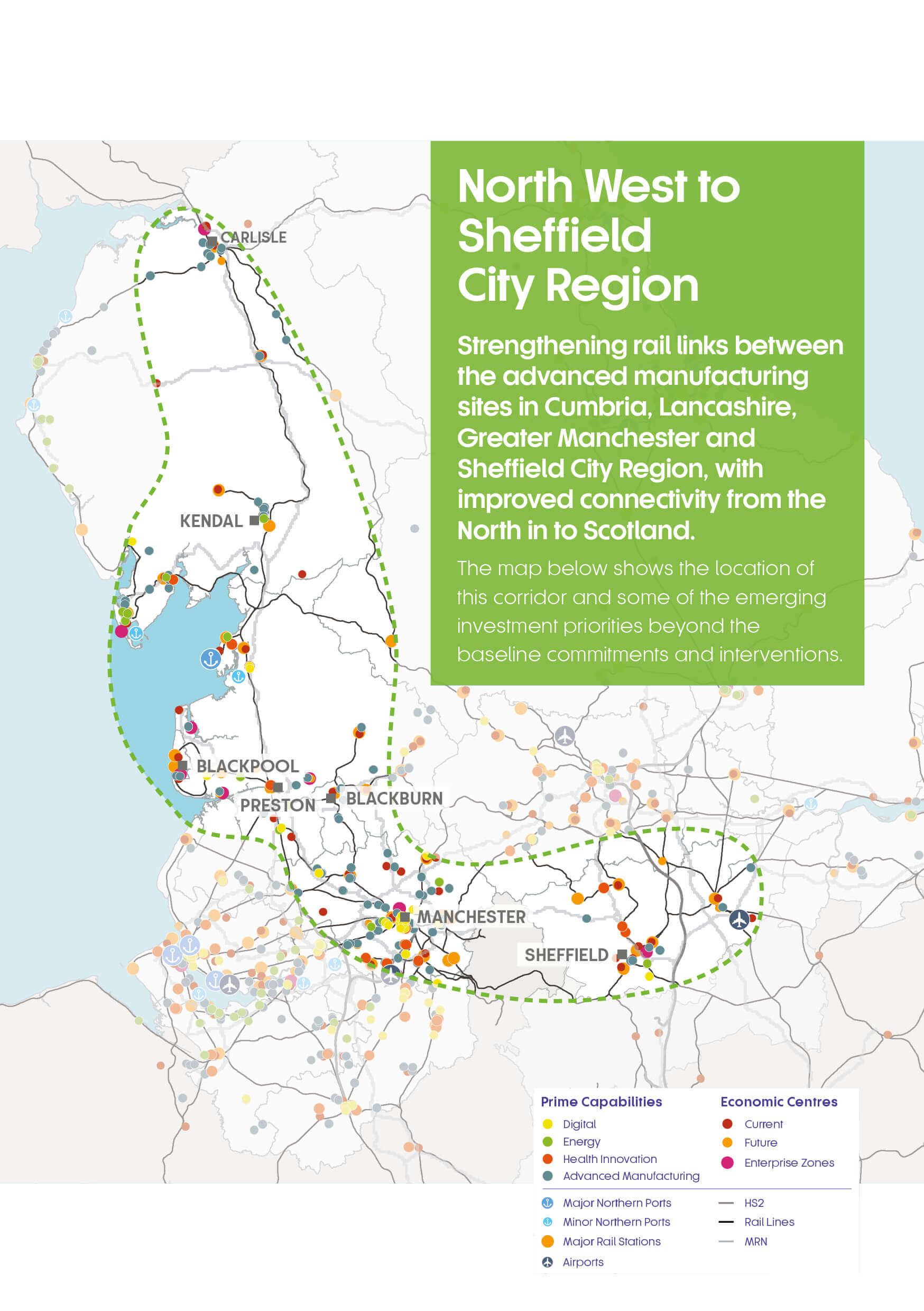 Yorkshire to Scotland
To complement the East Coast Corridor to Scotland and better connect the eastern side of the North, extending into the East Midlands.
Yorkshire to Scotland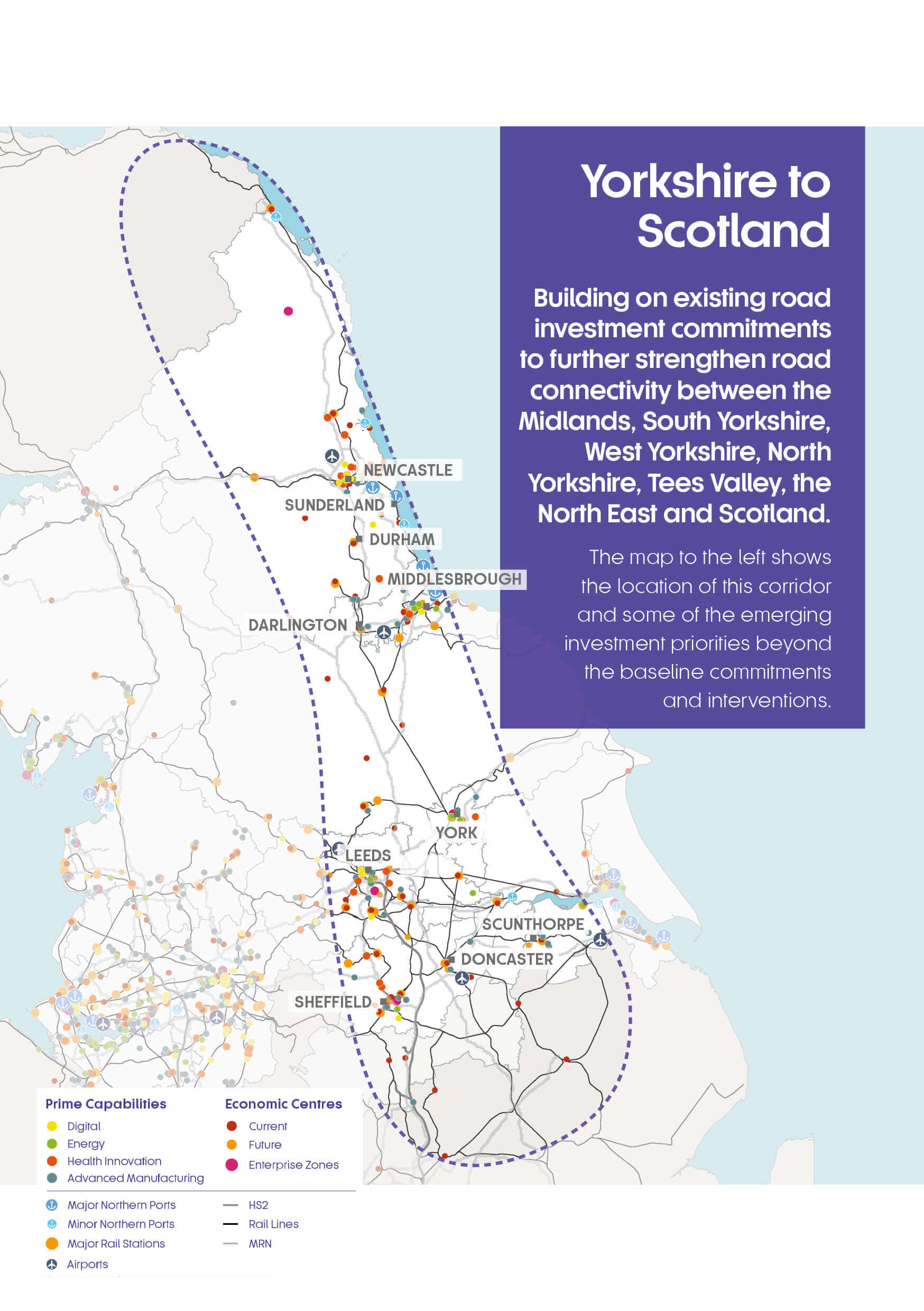 Frequently asked questions
What are the over-arching objectives for delivering the strategic development corridors?
To prioritise and sequence interventions in the strategic corridors to encourage transformational economic growth across the North
To take a pan-Northern approach by promoting a cost-effective transport network that takes consideration of all modes of transport
To explore digital technologies and how they can best benefit the transport network
To promote a more efficient use of existing networks and provide capacity to meet the future economic demands
To improve the quality and reliability of the transport network for the movement of people, businesses, and goods
To protect the environment
What do you mean by multi-modal?
To build a fully integrated transport network in the North that will enable a transformational level of economic growth, we are considering the interurban movement of passengers, businesses and freight across all modes of travel such as road, rail, long distance coach travel, light rail and waterways.
How will the strategic development corridors' commissions be governed?
For each corridor all of the local partners and key transport authorities have a role in shaping and agreeing the outputs of our work. This includes the combined authorities, local authorities when appropriate, local enterprise partnerships, Highways England, Network Rail and the Department for Transport.
How are you considering the effects on the environment?
One of the many benefits to living and working in the North is our built and natural environment therefore our strategic corridors will seek out opportunities to enhance the environment. As part of our feasibility work we will be carrying out assessments of how this may impact our environmental assets. This includes effects on:
air quality
noise
biodiversity and ecology
water quality
visual landscape
heritage
flood zones
carbon reduction
Who gets a say in this project?
Each of our strategic corridors spans a large geographical area in the North and our stakeholders' input will be crucial in the process of understanding transport issues and planning suitable interventions.  We are working closely with the local authorities, local enterprise partnerships and combined authorities to ensure that we consider the needs of the corridor from all perspectives. By working together we want to present a strategic outline plan that will improve connectivity between communities and economic hubs. We are also engaging with key businesses including airports, ports, freight operators, etc, to understand the current issues and future aspirations.
How do I get in touch?
If you would like to register your interest in attending future engagement events or request more information, please contact our team at strategy@transportforthenorth.com
Which consultants are on the project team?
Connecting the Energy Coast: WSP and SDG partnership
West and Wales: WSP and SDG partnership
Central Pennines: Jacobs and Arup partnership
Southern Pennines: Jacobs and WSP partnership
Yorkshire to Scotland: Jacobs and WSP partnership
While we have specific consultants working on each corridor we have taken a very collaborative approach across all studies, working together as one team when the opportunity arises. This allows us to share knowledge and best practice and ensures we have full confidence that the outputs that we present have the best potential to meet the demands of the North.
When will this work be delivered?
These strategic studies focus on the 'big picture' by looking at connectivity across the strategic corridors, including all modes of transport, and working with local transport bodies. As such, we will be producing a Strategic Outline Programme (SOP) for each corridor. We are considering interventions that will improve connectivity in the short, medium and long term:
Short: 2020-25
Medium: 2025-2035
Long: 2035 – 2050
Subject to funding and financing, delivery of any proposed interventions will be through the relevant transport authorities.
Public engagement on a number of the Strategic Corridors has already begun. To register your interest in attending a future event or to request more information please email engagement@transportforthenorth.com
Draft Strategic Transport Plan and Integrated Sustainability Appraisal
Early 2018, we published our draft Strategic Transport Plan and Integrated Sustainability Appraisal, the 30-year plan is the first of its kind and outlines how transport connections across the North of England need to be transformed over the short, medium and long term to drive sustainable economic growth by 2050. Our public consultation on the draft Strategic Transport Plan and Integrated Sustainability Appraisal is now closed. The consultation ran from Tuesday 16 January 2018 until Tuesday 17 April 2018. Once all responses have been reviewed a final version of the plan will be published later this year.
Download the key messages and reports below.