Friday 4th May 2018
2018 has already proven to be a historic year for us. We welcomed our new Chief Executive, Barry White; launched our draft Strategic Transport Plan; saw Rail North transition into our organisation and celebrated gaining statutory status, becoming England's first Sub-national Transport Body.
In this interview, Barry White reviews the achievements of Transport for the North to date and describes his vision for an organisation with transformational ambitions.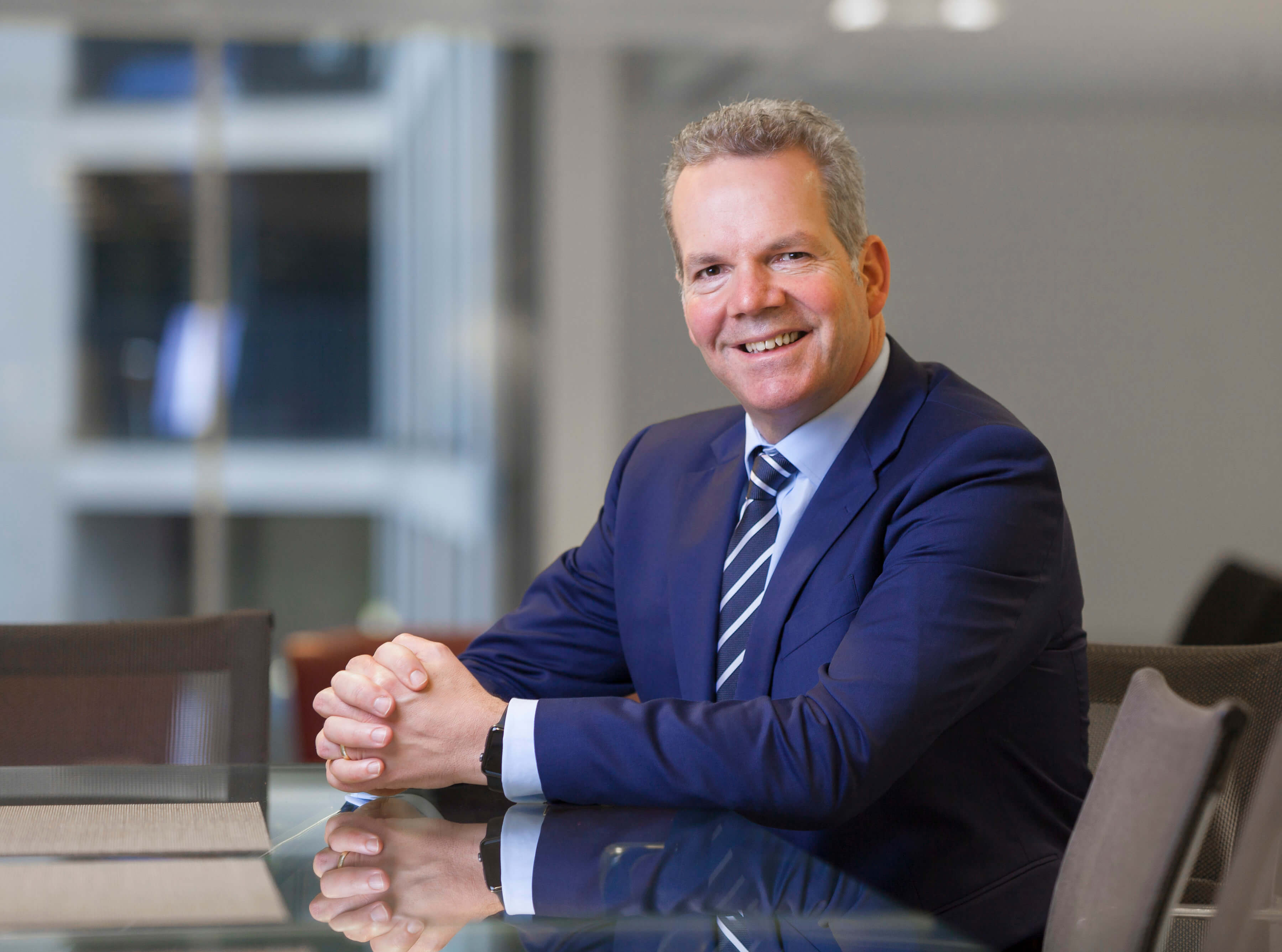 What attracted you to the role of chief executive at Transport for the North?
There is a clear opportunity to make a significant difference. When you look at the transport system in the North of England and how unbalanced the UK economy is, it was very clear to me that this was a job worth doing.
My career to date has involved the setting up of a lot of new organisations and developing new ways of doing things so I found the prospect of being part of building England's first ever Sub-national Transport Body in England, extremely attractive.
How does it feel to be leading England's first sub-national transport body?
Fabulous – it's always great to be the first. But what I must say is that I've only been part of it for four months, of course all the hard work over the last two years is what's got us to this stage. We've achieved so much thanks to the great team here at Transport for the North which has allowed us to secure the foundations for us to move forward as a statutory body.
And we've still got so much to do in the year ahead; becoming a Sub-national Transport Body is merely the launchpad for what we need to do next. It's wonderful to be first but now we've got a very ambitious business plan that we need to crack on with.
What is the importance of the organisation being a public/private partnership?
I think it makes us pretty unique. On our board we have elected representatives from the local authority areas but sitting alongside them are business people from the local enterprise partnerships. This exceptional mix of political and business input endorses the message that the Strategic Transport Plan is not just about transport but is also about the economy as a whole.
We're unique for a reason, that composition and that grouping is there to ensure that political and business voices are heard in harmony so that we can make more informed decisions in the long run.
How will statutory status change the way the organisation operates?
For me, what's important is not just what the new powers are that statutory status brings, it's how we are going to use these powers. On a fundamental level, we now have a formal role in providing input to the national investment plans on behalf of the whole of the North of England. Put simply, this means that by articulating the case for investment with a strong and determined voice, we can influence national decision making on behalf of the North.
There are many practical changes as well. For instance, we can now be an employer and a procurer in our own right which puts us on a strong long-term footing. That means we can attract and retain great people and employ them directly rather than using our previous host employers.
Tell us about Rail North's integration into Transport for the North
We're delighted to have Rail North become part of our organisation. Bringing the team on board is great, but particularly great thanks to the fact that they have achieved so much already, including helping set up the current franchise arrangements for TransPennine Express and Northern. As a result, we are going to see unprecedented amounts of investment in the North – over a £1bn of investment in this franchise period alone.
Practically, what that means is that later this year, we will see new trains deployed across the North of England with the old pacer trains being phased out. There's currently around 850 seats per hour between Leeds and Manchester. As a result of the rolling stock improvements scheduled by December 2019, this will increase to over 2000 seats per hour. It's not just about introducing new trains, it's about increasing capacity – more trains, more seats, greater comfort, greater reliability.
Rail North have trail blazed how effective a pan-northern voice can be in shaping and moulding how investment can be planned to accord with the priorities of the North.
What is the significance of the Strategic Transport Plan for the North?
The significance is that it isn't just a transport plan for the North of England, it's an ambitious economic plan which will influence the productivity of the UK as a whole, for many years to come. I think that linkage is really important because what we're saying is, "investing in the North of England will not only benefit those living and working there but will also have huge benefits to the wider UK economy". It's such an important message because the Strategic Transport Plan's vision which lies at its heart is, if we invest in the North of England, we can create 850,000 extra jobs and we can grow the economy by £100bn in GVA – helping to elevate the country globally.
How will the Plan continue to be developed?
We've just finished the public consultation in April and it's great to see such a tremendous response. Ipsos Mori are independently assessing and analysing the responses received as part of the consultation process and we will be integrating the feedback into the Plan before its final release later this year. Working with our partners we will also be developing our investment strategy that will say, for the next 5 years, here are the priority projects which we will be rolling out.
Of course, the release of the Plan is not the end of its development. Its success relies on our ability to be nimble. Disruptive technology, some of which we have no way of planning for, will change what is needed in the future and we need to be really responsive to that and able to mould and adapt as events and priorities change.
What are the biggest challenges faced by Transport for the North for the year ahead and the long-term?
I see this question as what are the opportunities. To me, opportunities and challenges are two sides of the same coin. Our challenge is that we have a great work load for the year ahead but the opportunity is that we also have great ambition for what we're doing. An example is that we're working to deliver a strategic outline business case for Northern Powerhouse Rail and we're working at breakneck speed to have that done by December. Challenging to say the least but a brilliant opportunity in the sense that I am confident we will succeed in putting together a very strong argument for our plans which I believe will result in support from the government.
What is your long-term vision for the organisation?
Quite simply, the long-term vision for Transport for the North mirrors the long-term vision for the North of England – to improve its prosperity. The first priority for me and something that we need to get right is to ensure we maintain a first-class team of skilled and dedicated experts who can help us deliver our vision. Retaining that team and their invaluable skills will enable us to become an enduring centre of excellence that adds great value.
To remain at the forefront of transport planning, we need to be really fleet of foot in embracing disruptive technologies because one thing that is certain is that transport planning is going to change more in the next ten years than it has in the last 70 years. We can see this already with technologies such as Uber where they efficiently match supply and demand, and provide a service that is easy to use, that is fast and on demand. With autonomous and electric vehicles for example, we're going to see a mass shift in behaviour and as a result we need to be really nimble in our plans because we are making decisions which are going to be long lasting, and therefore need to fit with what the future might throw at us.
The North is already a great place to live and work so our plans are about building on that. What I would like to see from our investment is the creation of more leisure and work opportunities and the option for people to change jobs and have the flexibility to take up new jobs around the North, without having to move house. People in London have great liquidity of employment in the sense that there are so many more job opportunities available. With the introduction of significantly improved connectivity, I'd like to see a similar level of liquidity in the North in terms of employment, meaning you can continue to live in your community but choose from a variety of nearby towns and cities to work – should you wish. This flexibility is good for individuals but also good for employers because it means they have access to a greater skills market.
Finally, perhaps the most crucial part of this vision is to secure the investment needed to achieve transformational growth whilst ensuring the money is invested as efficiently as possible.