Wednesday 15th July 2020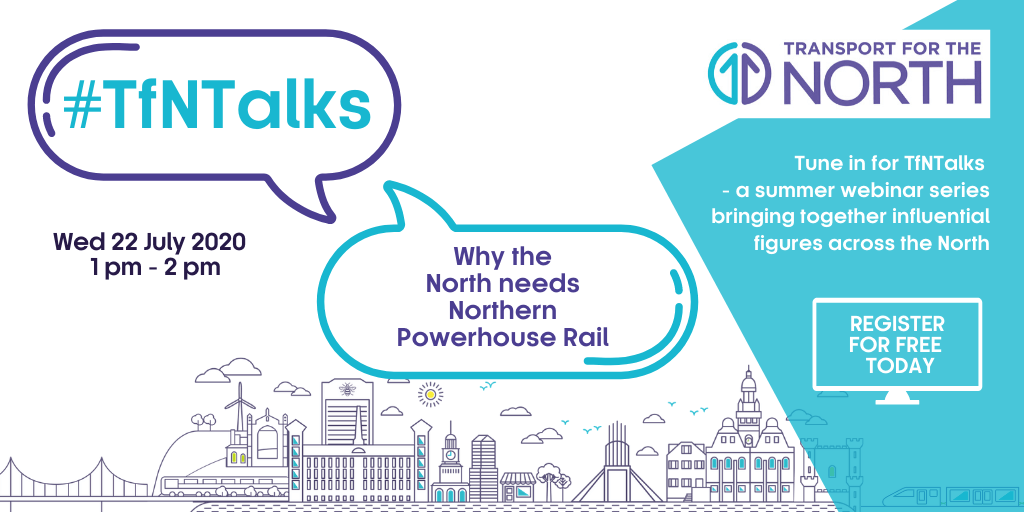 Northern Powerhouse Rail is a programme to deliver a transformational rail network for the north of England.
It will be the region's single biggest investment in transport since the industrial revolution and will feature a mix of new and significantly improved rail lines.
The network will vastly improve regional national and international connectivity, by providing passengers with more reliable services and quicker journeys.
For business, it will bring them closer to new markets, making it easier to trade and grow, while freeing up capacity on existing lines, which will improve access for freight
It's therefore crucial NPR is delivered in full to enhance productivity and rebalance the UK economy.
In our upcoming #TfNTalks webinar, our expert panel will be discussing why Northern Powerhouse Rail is a fundamental part of levelling up the North.

The North's economy needs vital infrastructure improvements to boost investor confidence and create new jobs, especially as the country works to overcome the challenges of Covid19.
We'll be joined by political leaders and industry experts, in a debate chaired by David Collins, Northern Correspondent for The Sunday Times.
Guests for the FREE online event on July 22 include:
High on the agenda will be the Integrated Rail Plan which is looking at how this transformative programme can integrate with HS2 and other rail services across the North.
The panel will be exploring the benefits of an integrated network of new and upgraded lines between our major towns and cities.
Tim Wood, Transport for the North's Northern Powerhouse Rail Director, said:
"Northern Powerhouse Rail is a once in a generation opportunity to transform a creaking rail network to deliver far greater capacity and connectivity for the North's people and businesses."
Northern Powerhouse Rail will transform the way people travel across the North and give them access to greater opportunities.
Anna-Jane Hunter, Director North of England Rail, Network Rail, said:
"We are working to give passengers in the region the service they rightly deserve: connecting communities and businesses, creating and improving journeys. The plans for NPR are an important part of this."
The audience can submit questions when registering and will be kept up-to-date with the event ahead of the broadcast.This webinar is being hosted on Zoom, and a link will be sent to participants following registration.