Friday 5th June 2020
Transport for the North today welcomed the news that from Monday 15 June 2020, as public transport usage is expected to further increase, the wearing of face coverings for transport providers and passengers will become a mandatory requirement.
The news was announced by the Secretary of State for Transport, Grant Shapps MP, at the Government's daily Coronavirus Press Briefing on Thursday 4 May 2020.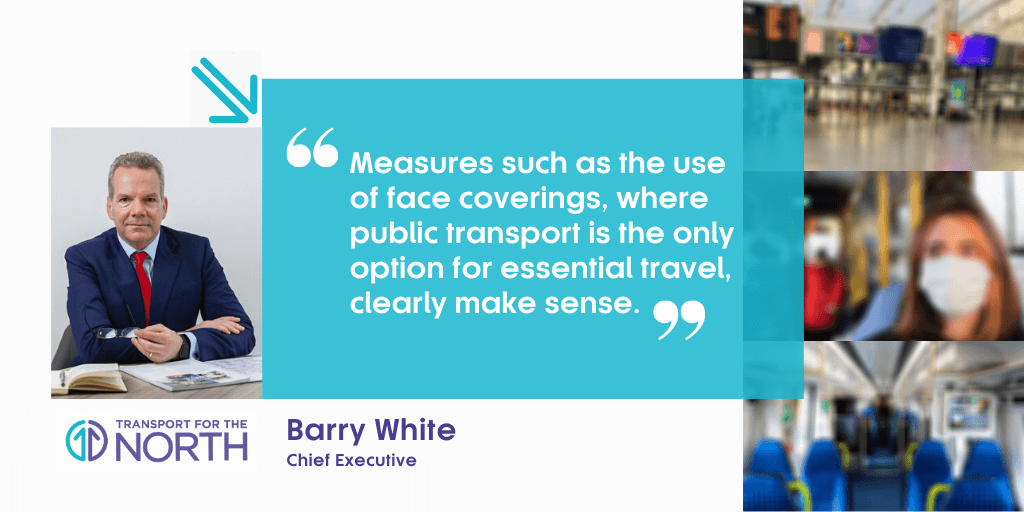 Barry White, Chief Executive of Transport for the North, said: "We are acutely aware that, as lockdown measures continue to evolve and public transport usage increases, there are likely to be occasions were social distancing is either difficult or, at times not possible.
"Whilst we are working closely with the transport sector to support safe travel wherever we can, measures such as the use of face coverings, where public transport is the only option for essential travel, clearly make sense."
He added: "A huge amount of work is going on across the transport sector in the North to enable effective social distancing on stations, on trains and at major interchanges. This work is being done, not only to support travellers, but those who provide the services they use.
"We would urge people to continue to work from home if they are able to, to consider alternatives to public transport if they can, and if they do have to use public transport for essential travel, to follow the guidelines and advice that has been set out for everyone's benefit."
He also supported calls by Northern, the region's largest rail operator, for people to avoid using rail for leisure travel at this stage of the pandemic, as by doing so they put those who have to use trains for essential travel at unnecessary risk.