Tuesday 11th August 2020
Government called on to back the North's plans for £5 billion pipeline of infrastructure projects to create up to 20,000 jobs
Transport for the North (TfN) has today (Wednesday) set out its initial plans for a Northern Infrastructure Pipeline (NIP), a 30-year investment plan of infrastructure projects to underpin greener Northern growth.
This £5 billion pipeline includes rail, road, active travel and smart ticketing proposals; some of which could be started over the next 6-18 months to help the economy 'build back better' after the COVID-19 pandemic, and help create around 20,000 construction and design jobs in the North of England.
The NIP underpins TfN's proposed Economic Recovery Plan (ERP) recently agreed by the North's business and civic leaders. Today is the announcement of the first tranche of 166 projects that could help create new job opportunities in the North immediately.
The ERP is aimed at accelerating delivery of infrastructure projects to help "rebuild and transform the North" by making transport more accessible and inclusive, and decarbonising the economy in the years to come.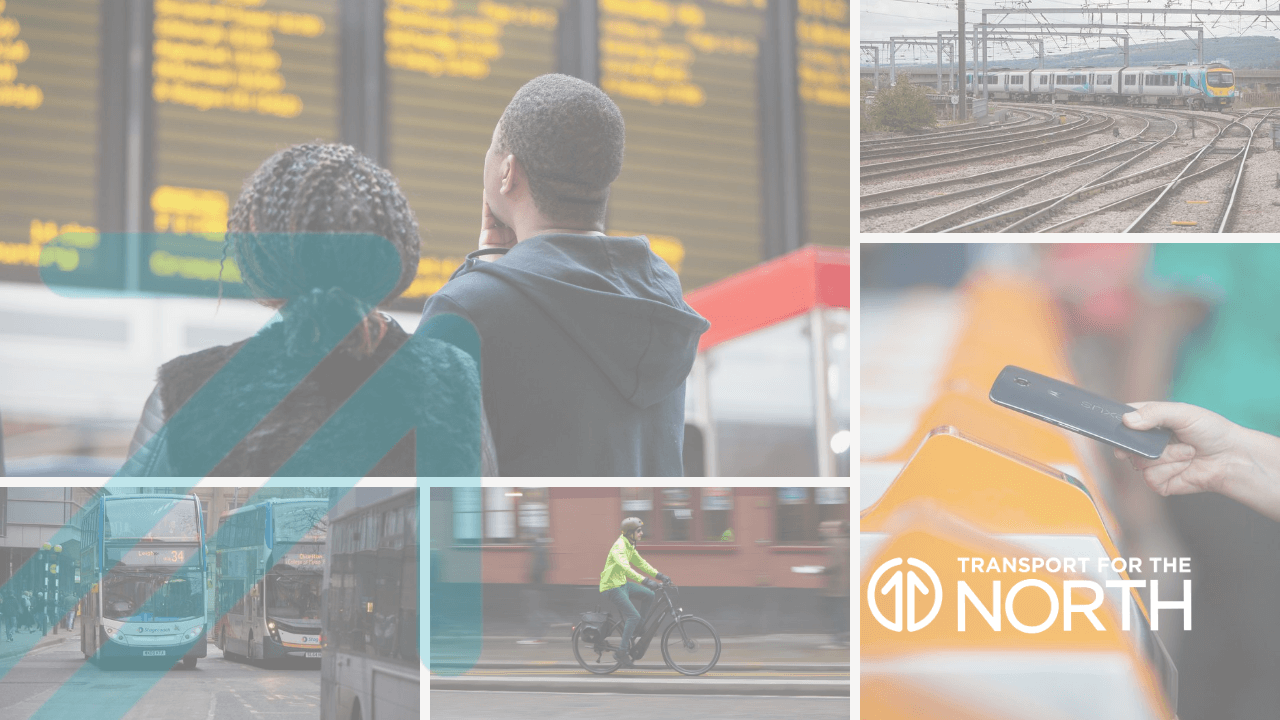 It is split into the key areas of:
Schemes that can be delivered within 6-18 months: Immediately supporting jobs and the region's recovery
Schemes that can start construction within 2-4 years: Supporting longer term economic recovery and rebuilding
Schemes where immediate investment in accelerating the development of projects would support jobs, boost confidence and maintain an ongoing Northern Infrastructure Pipeline to transform the North
It's also aimed at rebuilding and transforming the capacity and resilience of the North's rail network and laying the groundwork for projects like Northern Powerhouse Rail to futureproof the region's railway for generations to come. It also highlights the need for accelerating the green transition, including pilots of hydrogen and battery powered trains, as well as rolling out essential charging infrastructure from electric vehicles.
The full list of schemes is available in the Transport for the North Board papers – 29 July 2020 (starting at page 185).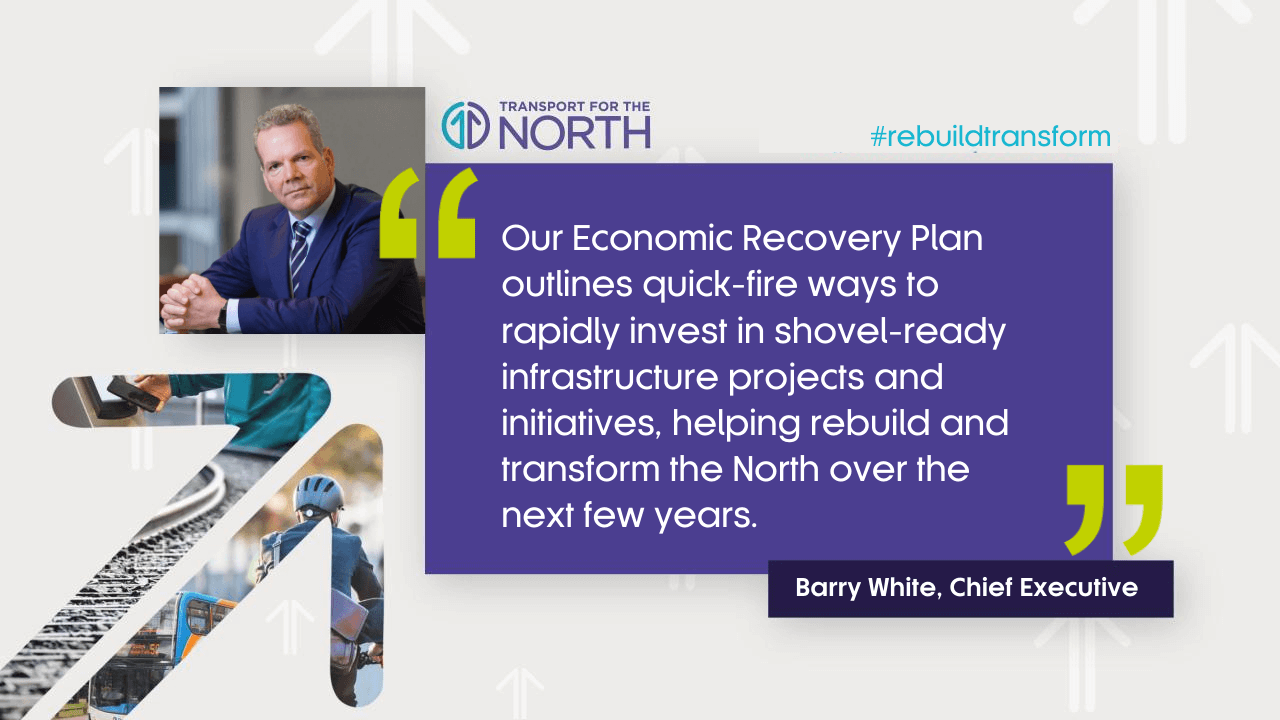 Barry White, Chief Executive at Transport for the North, said:
"Our focus must be on rebuilding the North's economy, which was already at an economic disadvantage to the South before COVID-19 hit. Our Economic Recovery Plan outlines quick-fire ways to rapidly invest in shovel-ready infrastructure projects and initiatives, helping rebuild and transform the North over the next few years.
"We believe that'll not only deliver an economic prize, to the tune of 20,000 jobs and a return of £3 for every £1 spent but – more importantly – a social return. It'll help better connect communities, slash carbon emissions from transport in the North and support people in living healthier lives.
"Crucially, these aren't new or over-ambitious asks. They're projects already in the system that now need the starting gun firing or a bit of work to nudge them across the line. We have welcomed the Government's ambition to accelerate projects and this is a great opportunity for its recently formed Northern Transport Acceleration Council to drive forward the delivery of projects. This sets up a great combination – Transport for the North using its local knowledge to identify projects and Government using its political heft to push forward delivery.
"The Economic Recovery Plan, and the Northern Infrastructure Pipeline within it, is aimed at how we rebuild and transform the North. It shows Northern leaders coming together at a time of national crisis and putting a united, pragmatic plan to our partners in Government, outlining some of the priority projects and when they could be delivered with the right will and collaboration."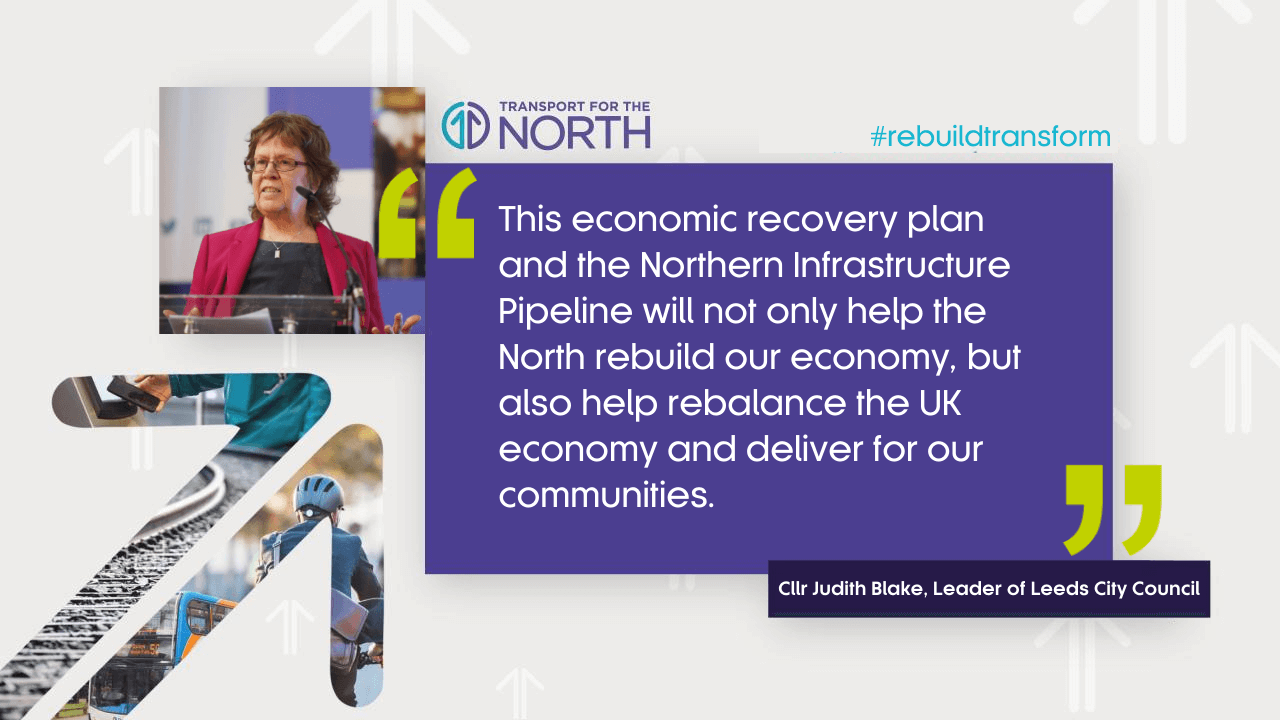 Comments from Transport for the North Members
Andy Burnham, Mayor of Greater Manchester
"TfN's Northern Infrastructure Pipeline is an essential part of securing the North's economic recovery after the pandemic is over.
"It is also a vital first step in addressing the legacy of the historic under-investment in transport infrastructure across the North.
"I call on the Government to take these proposals seriously and to work with us to deliver on the ambitions in this plan so we rebuild and transform the North for future generations to come."
Cllr Judith Blake, Leader of Leeds City Council and West Yorkshire Combined Authority Transport Lead
"The North has faced decades of underinvestment in infrastructure and rectifying that will be central to the way we recover from the COVID-19 pandemic. This economic recovery plan and the Northern Infrastructure Pipeline will not only help the North rebuild our economy, but also help rebalance the UK economy and deliver for our communities.
"We know that the way people access and use public transport has changed during the pandemic, but the fundamental challenge to build capacity and reliability into the transport network remains and must be addressed to truly transform the North."
Steve Rotheram, Metro Mayor of the Liverpool City Region
"It's essential that we start to rapidly Build Back Better and address the legacy of historic under-investment in the North's transport infrastructure.
"I've been making the case for a high quality, London-style integrated transport system that passengers in the Liverpool City Region desperately need and deserve. The Economic Recovery Plan has solid proposals for how we make a start in delivering that.
"I urge the Government to make good its commitment to do whatever it takes and work with us to put this plan into action."
Cllr Louise Gittins, Leader of Cheshire West and Chester Council
"Our cross-border economy in the Mersey Dee and North Wales region is of significant importance. It is estimated that infrastructure improvements would lead to an estimated 70,000 new jobs together with the fast-tracking of economic growth so that GVA grows to £50.5bn in 20 years.
"The Northern Infrastructure Pipeline would greatly assist this cross-border economy and demonstrably strengthen the union. I therefore strongly encourage government to support TfN's proposals for economic recovery."
Cllr Don Mackenzie, Executive Member for Access at North Yorkshire County Council
"North Yorkshire County Council recognises the urgent need for additional investment in transport infrastructure for the north of England, and therefore give our full backing to TfN's plans for a Northern Infrastructure Pipeline.
"We are England's largest county and our residents need better, greener transport options especially east-west links, as they travel around. We have a range of proposals for investment in rail, roads and facilities for cycling and walking, and will continue to work alongside TfN to make these happen."
Cllr Carl Marshall, Cabinet Member for Economic Regeneration at Durham County Council
"Investment in our transport network has long been vital to rebuilding our region's economy and is imperative in the wake of the coronavirus pandemic. The Northern Infrastructure Pipeline contains key projects that will make an immediate difference to residents and businesses, creating 20,000 jobs, boosting our economy and connecting people and opportunities. It also includes improvements to road and rail that will transform and future-proof our transport infrastructure for years to come, while developing green travel options that will be crucial as the region works to become carbon neutral.
"Good transport links are a major factor for businesses considering investing in an area and have been instrumental in the creation of sites such as Newton Aycliffe Business Park, along with the development of Integra 61 near Durham and Jade Business Park near Seaham, which will deliver more than 6,000 jobs for the region. The Northern Infrastructure Pipe line builds upon this success. Reopening the Leamside Line is a good example, as this would not only make rail services more accessible to residents but it would increasing capacity at Durham Railway Station, bringing more people into the county and boosting our economy."
Cllr Keith Aspden, Leader of the City of York Council
"Investment in our region's transport infrastructure and the success of Transport for the North is vital to the future of our city, whether that be economic growth, connecting our communities or building sustainable transport networks.
"It is crucial that the Government lives up to its promises to York and the North of England and provides the infrastructure and transport investment required to unlock the full potential of the North and enable us to deliver a sustainable long-term recovery.
"By backing the Northern Infrastructure Pipeline, the Government has a real chance to ensure that immediate steps are taken to build back better and develop more resilient, sustainable and inclusive economies for the North."
Cllr Keith Little, Cabinet Member for Highways & Transport at Cumbria County Council
"I am delighted we've now agreed our Economic Recovery Plan with ambitions for a 30-year investment pipeline worth £5 billion. This couldn't come at a better time, allowing us to create up to 20,000 jobs and create greener and more sustainable transport options following the COVID-19 pandemic.
"I hope the Government recognises how vital this is to recovery in the North, and supports us."
Cllr Phil Riley, Deputy Leader and Executive Member for Growth & Development at Blackburn with Darwen Council
"As a key member of Transport for the North, we are backing this plan and we also urge Government to get behind it.
"We have been saying for many years that the North needs more investment in its infrastructure. Now is the time for Government to deliver on that.
"With the damage COVID-19 has done to the economy, we need to invest so to create jobs for us to recover. It is also imperative we get funding for projects that will keep us connected but also help us tackle the climate emergency.
"This plan clearly sets out projects which can be delivered over the next 30 years which will benefit all areas of the North including our borough. Being a member of Transport for the North gives Blackburn with Darwen Council a chance to shape and influence these plans."
Cllr Hans Mundry, Cabinet Member for Transportation, Highways and Public Realm at Warrington Borough Council
"I think the North is not getting the same Government investment as the South and any move to address this imbalance has to be welcomed. My hope is this investment is seen as the starting point of investment in the North opening the economic benefits and potential of our area."
Cllr Craig Browne, Deputy Leader of Cheshire East Council
"It is now more important than ever that we are able to fully capitalise on the opportunities that HS2 and NPR offer to the North and this requires the delivery of the right infrastructure to support it.
"For Crewe and the wider region, this includes both a new north connection allowing HS2 and NPR services to travel north from Crewe to Manchester, Liverpool and Leeds and beyond and investment in a Crewe station to make it an excellent passenger interchange experience and hub for growth and regeneration of Crewe for the wider economy of Cheshire and Warrington, Staffordshire, and North Wales."
Cllr Michael Green, Cabinet Member for Economic Development, Environment and Planning at Lancashire County Council
"We know the government is keen to invest in transport infrastructure, particularly where there is evidence that projects can be delivered quickly and that every pound spent will have a good return and give confidence to businesses.
"We've put forward a number of schemes as part of the Transport for the North Economic Recovery Plan which are at an advanced stage, and where an injection of cash now could lead to work on the ground being able to start quickly.
"These road, rail and sustainable transport improvements are needed to update our infrastructure and ensure Lancashire can meet the needs of residents and businesses as our economy recovers from the pandemic and grows over the coming years.
"There are also a number of bigger schemes within Lancashire where we already have a business case in development to support them, but investment at this stage could really accelerate their delivery. These schemes, such as the Skelmersdale Rail Link, really do have the potential to transform opportunities for our communities and boost Lancashire's contribution to the UK economy."