Tuesday 21st July 2020
Comment from Transport for the North Chief Executive Barry White.
The Government is hailing this week as a landmark for investment in the North's rail network. A moment when it makes a down-payment on promises to level up with a rumoured £6 billion investment in the North, including the Transpennine Route Upgrade.
A briefing to the Sunday Times also revealed a new 'northern transport acceleration council' is in the works to speed up transport schemes in the region. We welcome investment in the North and anything to speed it up, of course we do.
Nevertheless, these proposals seem to be rather confused as to where the speeding up is needed. The suggestion being that Transport for the North is a 'talking shop' that has failed to deliver rail upgrades. So let's be clear, the Department for Transport already control every aspect of rail upgrades in the North: funding decisions, business case processes and oversight of Network Rail. The Government has direct control of every element that sets the speed of delivery.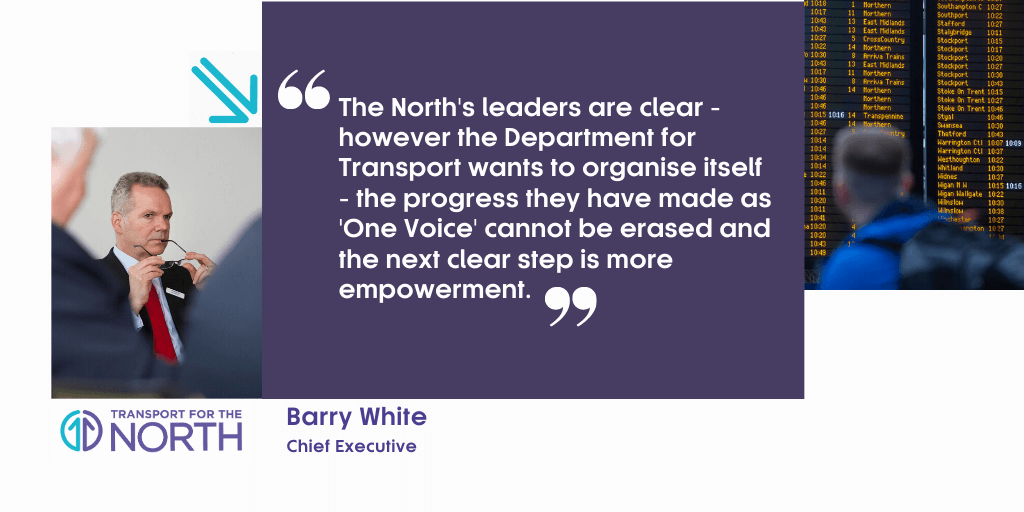 Transport for the North was established with limited powers, mainly to provide advice to Government and so, yes, we do talk. We talk with the North's 20 political figureheads and business groups on their priorities and clear recommendations on the investment the North has long been promised and is well overdue. But we do not have the powers or devolved budget to instruct work or take the decisive action that we all collectively need. A situation we hope will soon change.
However, Transport for the North needs to be at the heart of that change. Unlike other Sub-National Transport Bodies set up in 2016, it is unique. We have a Board that represents the political and business communities that make up the North of England. We are also the only statutory body among the SNTBs, so when we "talk", it's legal advice to government on what the North thinks should happen.
In fact, our first statutory advice in September 2018 was to urge the Government to fast-track investment in the Transpennine Route Upgrade and give us a strengthened role in its delivery. Back then, we made clear Government should green light the full ambitions to electrify the route mooted now a decade previously, not a cut price partial option. It's expected to be finally announced on Thursday, and our recommendations are now being given an airing. We've made similar calls to just get on with the Castlefield corridor interventions through Manchester after a decade-long back-and-forth on the best solution.
They say actions speak louder than words, but when your main power is your voice, you need to speak united and at volume. We have used our powers to provide advice – a 'One Voice' for the North – to help steer a course through some turbulent times.
In the Spring of 2019, we repeatedly urged Government to exercise its power to strip the Northern franchise in a bid to restore passenger confidence, a move ultimately taken in early 2020. It's this unifying role that saw Transport for the North also assemble its leaders in the wake of the 2018 timetable crisis – two months after we became a body in our own right – to respond to a total collapse in the existing system.
Together we helped steer a clear path to rail recovery armed with essential local knowledge of what passengers were facing on the ground. It laid the groundwork for repeated calls for more control of the region's railways to put into the hands of the North's leaders.
This unified approach also saw leaders submit the first business case for Northern Powerhouse Rail last year. An ambitious project looking to invest at least £39 billion in a new pan-northern rail network aimed at reversing years of managed decline in our railways, and challenging the narrow 'Green Book' appraisal approach that tends to favour the South East over the North historically, and help that region attract more public investment.
It's a testament to the unified resolve of the North's leaders, through Transport for the North and the region's media, that our collective vision now sits atop of the 'levelling up' agenda.
But the North's leaders are clear – however the Department for Transport wants to organise itself – the progress they have made as 'One Voice' cannot be erased and the next clear step is more empowerment. They want the ability to make local decisions that put passengers first and run a railway that responds to local needs. Powers that also allow us to create an integrated and sustainable transport network for future generations. It's that which will help us play an active and authoritative role in delivering the vision we set out in our Strategic Transport Plan for the North.
They'll soon be setting out proposals of how that should work in practice, involving a devolved budget and decision-making to help level up and build back better.
Let's work together, to empower and properly fund the North to make its own decisions on its infrastructure future, through our leaders and Transport for the North.