Tuesday 25th June 2019
A thriving North not only needs reliable transport connections within the region; people and goods also have to cross borders easily and get to neighbouring parts of the UK. Senior Strategy Officer Robin Miller-Stott explains how Transport for the North is working with partners in Cheshire, Merseyside and Wales to ensure investment in the North also forges links with adjoining regions.
As a proud Cestrian, I know how important cross-border links between England and Wales are. A strong transport network supports local and regional economies on both sides of the border, enabling people to seek new job opportunities, encouraging tourism into North Wales and Snowdonia, and opening new markets by allowing businesses to move their goods and services.
When we're making the case for investment we know it's about more than just transport, we also know that roads and tracks don't stop at our borders, and that what's good for us, is good for our neighbours.
Our cross-border approach is brought to life through our seven Strategic Development Corridors (SDC). More than traditional transport corridors, our SDC's represent area's where investment in transport could deliver the greatest opportunities for improving productivity and economic growth. They are fundamental to our Strategic Transport Plan and highlight the importance of working in partnership with transport authorities, governments, and business leaders at our borders with Scotland, the Midlands, Wales, and Ireland.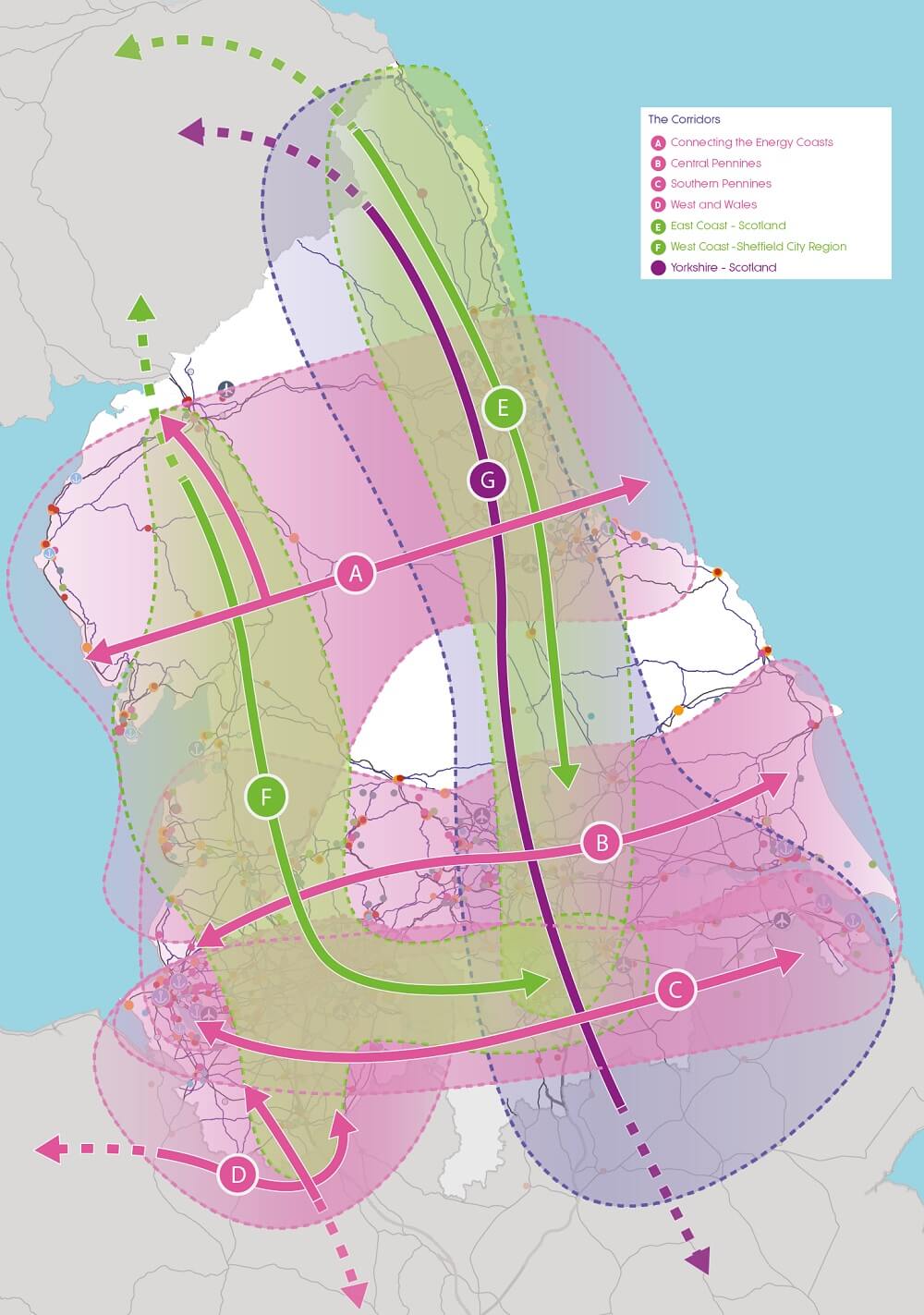 The West and Wales SDC is home to some of the North's largest cities and has significant economic and population growth forecasts over the next 30 years. Transformational economic growth could bring an extra £34 billion to the corridor and support an extra 260,000 jobs on top of business as usual. The cross-border Mersey-Dee economic area has an economy larger than Birmingham, Leeds and Sheffield.
Enhancing connectivity between the economic centres of Chester, Mid-Cheshire, Warrington, South Cheshire and Crewe, the Liverpool City Region and Deeside, and the rest of North West would enable this transformational economic growth. With all four prime capabilities – digital, energy, health innovation, advanced manufacturing – strongly represented in the area, there are opportunities to attract people in to high quality jobs across a range of innovative businesses, and to support the organisations based here in their growth goals.
Airbus, the aerospace manufacturer, has a factory in Broughton, a few miles from Chester just over the border in Wales. They currently employ 6,500 people directly, with thousands more in the supply chain. This puts a significant demand on the transport network, with thousands of employees and parts to move.
The current transport challenges in this economic area are strikingly reflected in the cross-border commuting patterns, of which only 1% are by rail. Apart from significant cross-border movement in the Mersey Dee area, the region is characterised by low inter- and intra-regional commuting between North West Wales and the North of England.
Local partners have done significant work to set out the benefits of investment in the rail network, including on maximising the benefits of HS2 coming to Crewe and the wider North. Growth Track 360 has said investment in rail could support:
• Growth in the economy to over £100 billion
• Employees becoming 20% more productive than the UK average
• The creation of more than 300,000 new jobs
• The delivery of more 200,000 new homes
Transport improvements are happening. The reopening of the Halton Curve in May 2019 reinstated the first direct rail services between North Wales and Liverpool for 40 years. An additional 215 weekly services are now in operation thanks to the £18.75 million track upgrade, which have the potential to reduce cars on the roads and boost local economies. Chester and North Wales passengers now have a direct rail connection to Liverpool Airport, via a stop at Liverpool South Parkway. The Transport for Wales franchise will also transform connectivity and the service offer across the border area with new trains and enhanced services.
However, future growth ambitions are not just limited by infrastructure investment with the area, but further afield. Currently the service frequency from North Wales and all the way from Cardiff in the South is limited by the number of trains per hour that can pass through central Manchester. That is why investment in Northern Powerhouse Rail will have real tangible benefits far beyond where the new and upgrade lines will be constructed.
Crewe Hub station will play an increasingly important role, not just for the West and Wales area but the wider national rail network. Further investment here as part of the HS2 and Northern Powerhouse Rail projects will deliver improved capacity and connectivity and increase resilience in the local, regional and national networks. A new Warrington Northern Powerhouse Rail station could present a really exciting rail offering, allowing easier transit for passengers between Wales and England, and a western rail link to Manchester Airport for people from Cheshire and North Wales.
Transport for the North and the Welsh Government signed a Memorandum of Understanding (MoU) in February 2019, cementing our joint working arrangement and driving forward a shared common vision of a vibrant, sustainable and growing economy in North Wales and the North of England. It sets out a coordinated approach to strategic transport investments that connect people and businesses through a reliable, efficient and cost-effective network. Both parties have also committed to establishing a political transport forum, with ministers from the respective Governments on either side of the border and local political leaders to better coordinate investment and decision-making.
This partnership, and the programme of interventions set out in our Investment Programme, mean we can work across borders to support the transformation of the economies of the North West, Wales and beyond. Multi-modal investment across road and rail, brought to life through our joined-up partnerships, will help unlock the massive growth potential seen in the West and Wales SDC.
By reducing delays and congestion, improving the frequency of services, and implementing new connections and technologies, people will have better access to jobs and businesses will be better able to move their goods and services. This is a really exciting prospect, and one we're proud to be working on alongside our neighbours in Wales.
Find out more about the Strategic Development Corridors here.